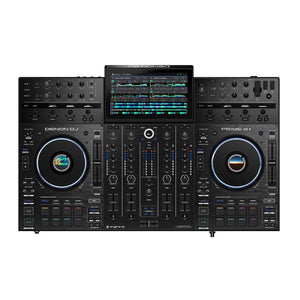 Unleash Your DJing Potential with the Denon DJ Prime 4+: A Game-Changing Standalone DJ System
Introduction:
Are you ready to take your DJing skills to the next level? Look no further than the Denon DJ Prime 4+. This state-of-the-art standalone DJ system is the ultimate companion for professional DJs seeking unparalleled performance and creative control. With its advanced features, intuitive interface, and robust build quality, the Prime 4+ is set to revolutionize the DJing landscape. Join us as we explore the game-changing capabilities of this remarkable device.
Unmatched Performance and Versatility:
At the heart of the Prime 4+ is a powerful multi-core processor that delivers unrivaled performance, allowing you to handle even the most demanding mixing tasks without the need for a computer. Its advanced touchscreen workflow, combined with a professional DJ mixer and two decks boasting performance-based controls, gives you the freedom to unleash your creativity and elevate your DJing experience.
Introducing Standalone Stems Integration:
The Prime 4+ takes DJing to new heights with its groundbreaking standalone Stems integration. For the first time ever, you can isolate vocals or instrumentals with a simple tap, thanks to the exclusive Stems separation feature. Powered by a multi-core processor and the formidable Engine DJ OS, this feature enables laptop-free onboard Stems analysis, providing you with limitless possibilities to create unique and captivating mixes. Prepare to explore uncharted territories of DJing with the Prime 4+.
Elevate Your Sound with Enhanced Dynamic FX:
Experience the power of the enhanced dynamic FX suite offered by the Prime 4+. With two expressive multi-FX sections, you have precise control over your sound, allowing you to manipulate your mixes like never before. Customize over 25 fully customizable Main FX and 4 dynamic Sweep FX to create captivating and immersive soundscapes. The OLED displays, knobs, buttons, and the 10.1" touchscreen provide a seamless and intuitive interface, giving you real-time control over your sound. Prepare to captivate your audience with mind-blowing effects and take your performances to the next level.
Seamless Integration and Intuitive Control:
The Prime 4+ features a professional club-style DJ mixer with four channels, providing you with precise sound sculpting capabilities. Dynamic effects such as Filter, Echo, Wash, and Noise, combined with dual-function sweep FX and filter controls on all channels, allow for smooth and captivating effect transitions. The Prime 4+'s smooth line faders and crossfader enable you to execute precise cuts and seamless blends, ensuring flawless mix transitions that will keep your audience on their feet. Browse and load tracks directly from the mixer using the intuitive rotary encoder, and explore essential track data and control options on the customizable 10.1" touchscreen.
Unlimited Music Selection and Effortless Management:
With access to over 100 million songs across genres, the Prime 4+ ensures that you never run out of options to satisfy your audience. Its lightning-fast analysis allows you to stream music seamlessly from any Wi-Fi network or mobile data connection without interruptions. The Prime 4+ also offers effortless music management, with multiple inputs and outputs, USB compatibility, and the ability to import your digital music collection effortlessly from various software platforms. Say goodbye to the hassle of managing your tracks and focus on delivering unforgettable DJ sets.
Conclusion:
The Denon DJ Prime 4+ is not just a standalone DJ system; it's a game-changer that empowers you to reach new heights of creativity and performance. With its advanced features, intuitive interface, and robust build quality, the Prime 4+ sets the standard for standalone DJ systems. Elevate your DJing experience, captivate your audience, and unleash your true potential with the Denon DJ
---